…Yet Being at Sundance is Nothing to Shake a Stick At!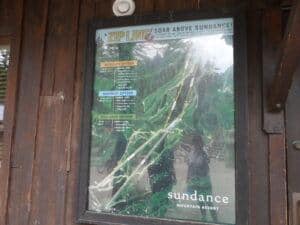 Happy Birthday! Those words mean a lot for anyone celebrating a birthday. They are even more special to a teenager who is in treatment away from home. How could we make our son's 17th birthday one to remember? We headed to Utah, of course! Part of his therapy includes regular visits from us every four to six weeks. We use the trips as a way to keep working on our relationships with each other.
However, this visit does NOT include our son staying in the hotel with us. He leveled "down" last month after not meeting a deadline for a Level 3 therapy assignment. He had plenty of fair warning, but couldn't quite get it done. As his consequence, the treatment team dropped his Level back to a 1. He has been trying to earn his Level 3 since then and when he does get it, he will skip over Level 2 and go straight up to 3. He's not far from that goal, but as I've written in the past, time is all relative. It's up to him!
Overall, he is doing very well, and he has taken a few minor detours on his overall path, which is to be expected. We arrived the morning of his 17th birthday and he was very happy to see us. He was smiling widely, enough for us to notice he got his retainer with the two attached teeth, back in place! Wow, that only took six months! He looked so handsome and was very confident in his new smile! Again! This was the fourth retainer in a year full of "retainer drama"! This one will not come out of his mouth by accident because it was glued in place by the orthodontist. Yes, the last one was too, but when that one loosened up and came out, he lost it. Another painful lesson learned. And expensive to boot since they cost $700 a pop.
We were also greeted by our son's therapist at the Ranch who came in on her day off just to see us and say "Hello". It was so nice of her to do that! We are all lucky to have her on our team! She gave our son a ribbon to wear for the day that said, "Happy Birthday". It was just enough of an embarrassment that it became a badge of honor and fun in every sense.
One of the first remarks out of our son's mouth was that he spent his entire 16th year in treatment; first in wilderness and then at the RTC (residential treatment center). Not being with him on his special day last year was difficult with a twinge of guilt, to be honest. He did receive a cake from the staff at wilderness and was made to feel special, but it wasn't quite the same. We were able to send a card,and tried to keep it light and humorous. This year being with him in person was our gift to him! What a TREAT and an accomplishment rolled into one!
We had some fun activities planned for his 17th birthday. We began by driving up to the Sundance Mountain Resort to go zip-lining! It was going to be a blast! He seemed very happy to hear about our plans. The Sundance ZipTour is one of the most exciting and scenic zip tours in the world, boasting over 2,100 feet of vertical drop — the most of any zip line tour in the United States. Guests can ride side-by-side on the zip line's double cables and control their speed, cruising over 65 miles per hour, or stopping mid-air to take in the views. Yes, we all did this together! Now we have zip line experiences from Puerto Vallarta, Mexico Asheville, North Carolina, Jackson, Wyoming and now Sundance, Utah under our belts! Where to next?
---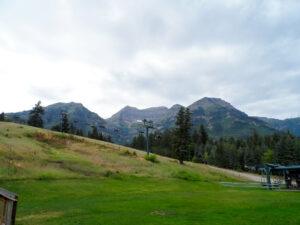 ​After the ZipTour, we shared a wonderful birthday dinner together at the Foundry Grill which included the best brussel sprouts we've ever had. Our son even tried and liked them, too! (A small win for us!) We told our waiter that it was our son's birthday and so he got to pick ANY dessert on the menu for FREE! The choice was a Lemon Ginger Cake topped with fresh Blueberry Ice Cream. Delicious! The waiter brought us three spoons and we enjoyed it in record speed!
Besides the zip-lining and excellent meal, we had some good conversations regarding what some of the scenarios for the future would look like. Nothing is determined or set yet, so we talked in generalities and listened to each other's point of views and goals. It was successful, even when we had different ideas. Was there a glimpse of a new found maturity of our 17 year old son? Could it be true that he was growing up?Back at the Ranch, the chef made our son his own special birthday cake: Twix with vanilla cake inside and chocolate frosting and Twix candy bars outside. All the boys had a piece and one was saved for us, too. It was so intensely filled with sugar that a little went a long way. Tasty and very SWEET! It's a good thing that birthdays are only once a year!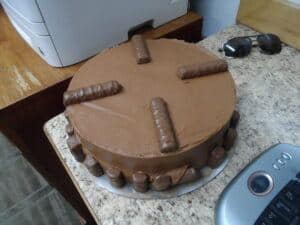 ​The rest of the weekend was filled with hiking, movies, more good meals, swimming at the Provo Rec Center, running, weights, shopping (he was allowed to pick out two t-shirts and a pair of socks as gifts) and lots more conversations. And he did actually do some homework along the way too! (Will surprises never cease?) Our nightly family meetings were honest and open. Could we be getting somewhere? Maybe, but we have to be patient and full of resolve to stay present and focused. We have a long way to go, but for at least this weekend, we were a family celebrating our teen age son's 17th birthday. We were happy to be together and celebrate the day!I am a Happy,
WARRIOR MOM