We took another trip back to Utah, this time with Moab as our destination which included Arches National Park and Canyonlands National Park. We picked our son up early Friday morning with the intention of having a therapeutic family trip. It turned into so much more than we expected: filled with magnificent beauty and many difficult conversations. Our 16 1/2 year old is back at Level 2 and we were all excited for him to be in the hotel with us again! The last time he stayed overnight with us was back at Christmas time in Salt Lake City. It had been a while!
Our first stop was shopping for shorts. The weather is beginning to warm up at the Ranch, so our son requested that we buy him some shorts. Most of the boys wear them during school hours, so we got permission to add that activity to our contract and list of things to do and goals. We all have to agree to the rules for being off campus: no cell phone use, we have to be together at all times, no use of money, no R rated movies, no highly caffeinated drinks, etc.
The store didn't have the biggest selection of brands and styles and that has become important to our son, surprisingly. We went back and forth and finally decided on a couple of pair. The tug of war began between us, but we talked about it openly and then hit the road for our three hour plus trip. We stopped for food and our son had signs of more resistance to choices before he settled on a box of fried chicken for lunch. I point this out because looking back we can see how innocently it started but by the end of the weekend, we had more power struggles regarding food and portions. Some old habits and "hot" button topics showed up during our weekend.
We had a picnic lunch along the shores of the Green River and it was a perfect temperature outside. We talked about what was new. It was fun just to be together again. Our trips back to Utah have been about five to seven weeks apart and honestly it's not easy being so far away from our son. We looked at the map of where we were heading and checked out the John W. Powell History Museum and then hit the road on to Moab.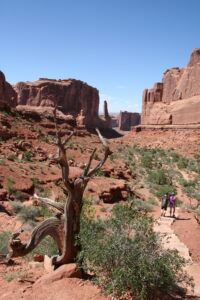 One agreement we had was for our son to bring his homework and therapy assignments along  on the trip, to work on them during the weekend. But time management is not his strong suit and with some prompting he did get a little work done. My personal level of frustration started to rise each day as he began to make excuses for not doing the work. We ended each day with better family meetings than we previously had during past visits, which took some of the edge off. But there was still a power struggle lying underneath it all. We set it up that he was going to lead the meetings and not just "phone it in" as they say. We succeeded in that department.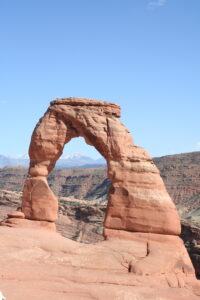 We arrived at Moab late Friday afternoon and checked into the hotel. It had a nice pool and a good location so we were very happy. We decided to put our hiking shoes on and explore Arches. First stop was "Park Avenue" and then onto "Delicate Arch". Our son was a champ for carrying all of our water bottles in his backpack. We did more talking and then the topic of school came up. We went over past issues with his education and the conversation became quite difficult. He admitted to not having the right mind set for learning as a freshman, which led to more discussion of what worked and what didn't work last year. We listened and learned and even though we disagreed, we talked it out. That was the biggest take-away. Yet, something remained unresolved for him.
---
We went to the movies on Saturday night to see The Avengers. Not my favorite film choice, but we did enjoy it. Our son really liked it. It brought home the point that we are all different, including taste in movies and our journeys are different as well.  We went swimming at the hotel pool. We ate ice cream in town. And we continued to talk. We never lost sight of the fact that we are trying to re-build our relationships. There were tough moments. There were hard conversations. Sunday turned out to be our biggest challenge.
---
We were tired. We had hiked and hiked. We had talked and talked. I challenge any family to do what we had done and have them be smiley and peachy keen as a group. But Sunday was a arduous day. We decided to drive through Canyonlands National Park instead of hiking and found ourselves on the end of his silent treatment without understanding exactly why. This was an old pattern and one that I never hoped to endure again. Our son wanted a few more pair of shorts and he wanted to head north to the Lehi outlet mall instead of enjoying more of the beautiful Utah dessert. We didn't pick up on his desires until late in the day. We probably should have just headed back to the Ranch, but no we continued to prompt him, which led to more power struggles and more one or two word answers to our questions.
Later at dinner we talked about what was really going on. If he didn't get his way, then we had to pay for it with his silence. It was deja vu all over again. We had experienced the son we had from a year ago. The good news is that his therapist said that was the best case scenario for our weekend. Why not go through some difficulties while still in a safe environment and there was a support system in place? It was not easy, but there were silver linings after all. We talked. We didn't yell. We were able to disagree and listen to each other's points of view.
And finally, with the therapist's help, we validated each other's feelings without having to agree with the viewpoints. It was a great trip from that stand point. We were actually getting to real feelings, not just going through the motions. Our son was the most like he had been at home and that allowed us to practice new methods, even after the fact. After the trip we wrote letters separately to each other pin-pointing moments that worked and others that hadn't. We continued working on things in our Skype therapy call last week as well. I am aware I am still processing it and have ups and downs in dealing with the feelings. As they say at the Ranch, "The Strength is in the Struggle".
It was a good weekend. We didn't see eye to eye all the time. We talked about our differences. It was done in the safety net of treatment. We are lucky to have help navigating our relationships. We will never forget the beauty of Moab and the beauty of communicating.  See you next month son!
Keeping the Faith!
WARRIOR MOM