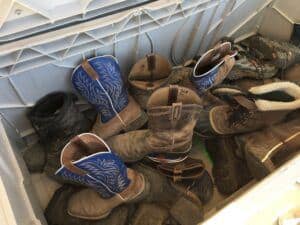 We returned from our third Parent Days event with a new understanding about time, yet again. Among the parents whose kids have been at the Ranch from eight to ten months, there was a common frustration. In most cases that struggle revolved around time. Many of our kids, mine included are taking the slow road, stalling along the way during their treatment. This therapy stuff is exhausting and it takes a LONG time. But why?
It's comfortable to remain the same. It's uncomfortable to make change. And we are dealing with teen-age boys who look and deal with time differently than we do. The saying "Time is money" is very true for those who are paying a fortune trying to help their kids by sending them to Wilderness, Therapeutic Boarding Schools and Residential Treatment Centers. This cost doesn't even include the hours of previous therapy with doctors, counselors and psychiatrists back at home.
It was explained to us at Parent Days that change also has very little to do with cause and effect. If the bait is dangled to move to a higher level for more rewards, doesn't it seem easy to just follow that path and make it happen? Not always. Whether it involves a young brain trying to develop or a kid with ADHD or other social emotional issues, when one is struggling, then some things just take a while. As parents we want to see results, and yet it's probably not going to speed up just because we've put everything in place and paid the money.
Why do I keep coming back to this topic of time and motivation? Can one really motivate someone who isn't self-motivated? Does external motivation work? Or does it have to be personal and internal? Very good questions, and yet its obvious that being outcome based is not going to make things move any quicker. Being encouraging and understanding doesn't change the speed of results either, though we think it should. The simple truth is that it is what it is. I will say it again: "It is what it is".
So once again, after feeling positive about how things are going with my son, I can easily go to a darker place of frustration and maybe even disappointment that it's taking so long. But change isn't easy and it won't happen just because we attach it to a date on the calendar. Time is relative. As we get older, it goes by a lot quicker. For the teens in today's world, they have their futures ahead of them, but time is such a vague concept to grasp.
So for this blog post, I am going to give myself a reality pep talk. You can listen in if you like: "Okay Warrior Mom, here's the plan:  Express your frustration! Take it out by hitting a tennis ball over the net! Sing along really loudly to a song on the radio! Watch America Ninja Warrior on TV and think you could have done better than those athletes! And after that, get back to business. Be satisfied that you have done everything in your power already. Be confident that you are doing the right thing. Be open with others about what's happening. And then be present and accepting. Time is all relative. It is what it is!"
I will stay strong,
​WARRIOR MOM