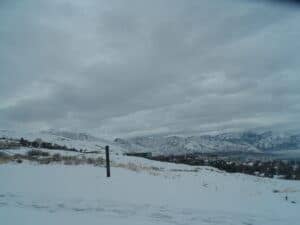 We had a REALLY FUN visit this past week with our son in Utah! The weather made it special by snowing on Christmas Eve, which turned the holiday into our first "White Christmas" ever! It was also the first time we celebrated anywhere but our home in Northern California. We found a very cute "blow-up" Christmas tree on eBay and had it ready to go when our 16 year old awoke in the hotel room! Santa didn't need a chimney, just to be redirected to Salt Lake City with our modest gifts. I think we've started a new tradition for our family!
The Swiss made wrist watch we gave him was a BIG hit. We didn't know that our son could actually "tell time" the old fashioned way and for the next five days together, he repeatedly announced what time it was! He really liked it. Sometimes going "old school" can be fun when electronics are not allowed. Plus the watch's hands glowed in the dark and there was a sweep second hand on it as well.
It was also the very first time he gave us each a Christmas present. No kidding, I can't remember ever receiving anything from him. He hand painted two very cute little horse ornaments, complete with yarn for the mane! You can imagine our joy when we opened the box! He was so proud of his work. They are pictured below. Aren't they cute?
---
We had a delicious dinner experience on Christmas Eve at Benihana's Japanese Restaurant. Finding a dining spot was a challenge, since Utah basically shuts down, but it was an entertaining meal filled with delicious shrimp, chicken, veggies and steak. We walked out into the light falling snow with very full stomachs! We also had a chance to see the spectacular lights at Temple Square. There were lots of visitors enjoying all the buildings and trees in full twinkling color!
The most anticipated event of our Christmas Day was seeing the new Star Wars movie. Our son is huge fan and it's been two years since Episode 7. We had purchased tickets in advance with reserved seats, so our movie going experience was relaxed and enjoyable. Our family review gives "The Last Jedi", two thumbs up! We spent most of the rest of the day talking about Star Wars theory and lore as we headed to dinner at one of the few restaurants open on Christmas Day in Provo. We had another grand feast which included six courses. The pumpkin soup was the best we've ever tasted. It put a cap on a wonderful Christmas Day!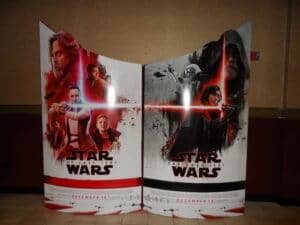 The rest of the trip went very well. Stay tuned for Warrior Mom's next post to find out what else we did!
Happy New Year!
WARRIOR MOM