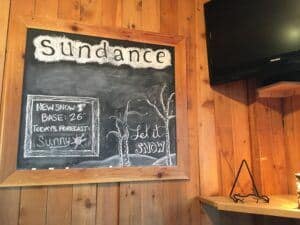 Part of our visit contract was to participate in a "family meeting" every evening. It was a check-in about how things went during the day, what were the concerns, who should get "Props" and any other comments we had for each other. Our sixteen year old ran the meetings. They were informal, yet a powerful acknowledgement of how far we had come as a family and how far my son had come in exactly six months since going off to wilderness.
He was aware of the date of the 28th. He knew that date had significance. We did too. If someone would have told me on the night that the transport men came to get our son back in June, that six months later we would all be skiing at Sundance, I would NOT have believed it.
Sundance, Redford, skiing, Utah, family, chair lifts, snow, hot chocolate, below 30 degrees. None of those words were in my brain the night our son went to wilderness. Yet, here we were, during Christmas time using every single one of those words! How amazingly wonderful!
As a movie buff, Robert Redford has always been one of my favorite actors. The Sting, The Way We Were, Out of Africa, The Natural…….On my bucket list was a visit to his magical part of Utah known as Sundance. Tucked in the beautiful Provo Canyon, a mixture of a light dusting of snow and the jagged mountain peaks were spectacular when we arrived during our visit with our son.
It is small enough to not feel overwhelmed! As we rode up the chairlift with a local, she told us that she worked at the ski resort years ago as a teenager. I asked if Redford was still in the picture. She said, "Yes!" and had us turn around to the hill behind us to see a clearing, and a house behind it. That was Redford's house! She told us that she still see's him skiing at the resort, though he looks much older, not to mention he is much shorter in person than you would guess.
---
Our day at Sundance was just perfect. Our son was on a snowboard and we were back on skis after a few years of not skiing at all. Our goal was to NOT get hurt. We didn't, but our son jammed his wrist on a fall down the slope. He kept at his new found activity, saying how much FUN he was having! Wow, we sure didn't expect those words to come out of his mouth! We ordered lunch at the Taco Truck and ate inside the Rehearsal Hall. We sat for a few minutes by the outside BBQ pit to get warm. The sun was out. It was perfect.During our meeting that evening, we reflected on our successes during the day. We wouldn't have changed anything. We hope to visit Sundance in the future and capture our family spirit there once again as well. What a nice day it had been. The next day was a recovery day. Our son held his sore wrist as sort of a badge of honor, we felt some sniffles coming on, but all of us rallied and went to the movies, one of our favorite family activities. We laughed out loud at Jumanji with Duane "The Rock" Johnson and Jack Black. It was very clever and we were all engaged. (Family review:   Two thumbs up!)
We grabbed a bite to eat and then hit the road back to the Ranch. Our trip had been a delight! We talked about our next visit to come in about seven weeks time. We will miss each other, but have letters and our weekly Skype therapy call to look forward to. What progress we have made! What will the next six months hold for us? It's hard to say. For now, we have the memory of a wonderful visit to Sundance and a beautiful Christmas in Utah, that we will treasure forever.
Keeping the Faith!
WARRIOR MOM