It is the end of the 31 day Ultimate Blog Challenge and I have enjoyed writing about our story everyday this month. I will continue with the My Warrior Mom Life Blog on a less frequent basis, but probably not every day. For those who have been regulars, thank you so much for joining me on this journey. For those who have stopped by now and then, thank you, too. I hope you will visit again soon!
For the final day of October, better known as Halloween, I want to write about our wonderful visit with our son for Parent Days last week. Each quarter the school has an event where parents come to the campus and engage in workshops and talks with a theme related to helping us with our struggling teenagers. This quarter the topic was "Boundaries". We listened, shared and practiced. Everything about the three days on campus had meaning and purpose. It was very well organized and obviously was well thought out and executed.
The biggest take-away was that we are NOT alone. There are MANY families in our same boat. There were other parents going through similar situations AND other teens going through rough patches, too. We felt the power in the process and were open to learning what we could in our few days in Utah. We didn't know what to expect, having only experienced a family therapy retreat at our wilderness program in August. We were sure that it would be beneficial and help re-establish boundaries for our family.
We ate meals together, played games together (including Knock-out on the basketball court) and helped feed our son's calf early one morning. It was so nice to be a family again. We met other families from all over the US. We learned that many of the boys had also been to a wilderness experience and were now doing well. Our son was doing well. He smiled and talked and played. WOW! What a difference even in the short time at school (about one month's time). We were very happy. We felt like we were living a miracle, and yet stay so grateful and humble.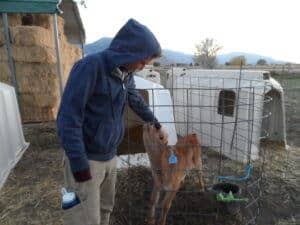 But as our three days came to an end, we experienced something that really knocked our socks off and brought us to tears. The boys performed in a variety show. Some played music and and sang. Others performed skits from famous musicals or shows they enjoyed like a scene from Monty Python and the dance from Michael Jackson's Thriller. Since our son was a newbie, his participation was limited to the last song they all performed together. They lined up around the stage in white t-shirts, black pants and smiling faces.
Then the music began and it was a well known song that immediately gave me chills and began my flow of tears. The boys started singing the recognizable lyrics made famous by the band Journey in the early 1980's. When they got to the chorus and sang "Don't stop believin'" it was clear they were telling us parents to NOT GIVE UP on them. They were working hard to earn our trust, set their lives straight again and head towards a brighter future. But we MUST do it together.
---
Just a small town girl
Livin' in a lonely world
She took the midnight train goin' anywhere
Just a city boy
Born and raised in south Detroit
He took the midnight train goin' anywhere
A singer in a smokey room
A smell of wine and cheap perfume
For a smile they can share the night
It goes on and on, and on, and on[Chorus]Don't stop believin'
Hold on to the feelin'
Streetlights, people
Don't stop believin'
Hold on
Streetlight people
Don't stop believin'
Hold on to the feelin'
Streetlight people
​
Strangers waiting
Up and down the boulevard
Their shadows searching in the night
Streetlight people
Living just to find emotion
Hiding somewhere in the night
Working hard to get my fill
Everybody wants a thrill
Payin' anything to roll the dice
Just one more time
Some will win, some will lose
Some were born to sing the blues
Oh, the movie never ends
It goes on and on, and on, and on
[Chorus]
Don't stop believin'
Hold on to the feelin'
Streetlights, people
Don't stop believin'
Hold on
Streetlight people
Don't stop believin'
Hold on to the feelin'
Streetlight people.
I won't stop believing! Thanks for reading and for your support!
WARRIOR MOM