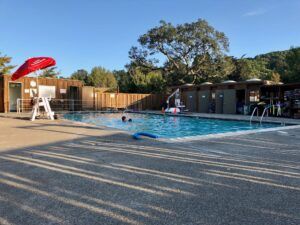 The weeks following our Spring Break Disneyland trip were up and down and it became very clear that we needed to take care of ourselves. I asked my therapist what exactly does "take care of yourself" really mean? She explained it was about doing things that you like, along with getting plenty of exercise. I've also heard it explained like when the flight attendant tells parents to put the oxygen mask on first, then assist your child. You come first, or you can't help your kid!
The community pool up the street re-opened in April. I began swimming in that pool five to six days a week. My routine was not hard core, but a slow and steady series of laps that were more like "water aerobics". Sitting elementary back stroke, breast stroke and a rock climbing motion through the water were just a few of the moves I did. I would increase my time each day until I reached an average of 45 minute work-outs. Boy, did I feel good after getting out of the pool. The water had a calming effect that I was craving. It was my much needed escape.
Another activity that I enjoy is shooting baskets. So after leaving the neighborhood pool, I would pass a school yard that had many basketball hoops. What do you know? There were some basketballs lying around. So, I started to shoot. First close up shots, then free-throws and then further away, three point style. I didn't make them all, but I shot and shot until I made 50 points (25 baskets). That activity felt good too. I was beginning to get the idea of self-care.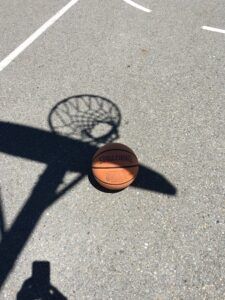 I was actually enjoying myself in the middle of a "teenage storm" at our house. I still felt crummy a lot of the time, but as I tried to "be in the moment" and "put one foot in front of the other".  I was beginning to feel a little bit of relief, too. In fact, I highly recommend that you find your own personal activities to aid you in the self-help arena. What types of activities or hobbies give you pleasure? What is something that you've always wanted to take up? Or, what things have you put aside from your past that you can re-kindle? I was finally understanding what people meant when they told me "take care of yourself".
Keeping my eye on the ball!
WARRIOR MOM