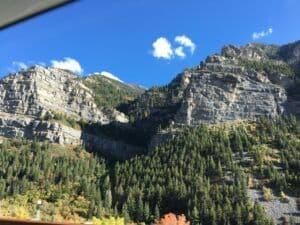 We started our four hour car trip to Utah feeling happy and hopeful. There were many little signs of the positive changes made in wilderness by our son. One amusing example was the variety of music that he now wanted to listen to on the radio. He admitted to liking so many more songs and artists than before. He even was into the Taylor Swift song! That would have NEVER happened before. In wilderness the boys had a few favorite stations that were on during road trips.
Another example of a change was that he wanted to buy a couple of paperback books and after we did find a store, he asked to turn off the radio so he could read his book. What happened to my son? He was also talking and answering questions. He was so happy to be out of the wilderness after ninety-two days! He then admitted to be exited about the new school in Utah. WOW!
We drove through Salt Lake City and went by Temple Square. Very impressive indeed. We were having an old fashioned road trip. While getting gas we had fun people watching, too. Our son's wilderness therapist gave us one big warning, to not over do it on the food. One stop at Starbucks for a cold drink. An awesome pizza dinner. Probiotics twice a day. All was good.
We did make an important stop at the best outlet mall I've ever seen. It had all the big names: Nike, Gap, H&M, Polo, Columbia and lots more. We had either purchased or pulled from our son's closet, all the necessary items on the packing list for the new school. There was limited space so we had to count up the pants and shirts. They provided the polo shirts and PE clothing, but it was up to us to supply the rest.
He tried on all the clothes and left tags on just in case they didn't fit. He didn't care for a few of the shirts or pants, so we did buy a few things on sale, outlet style. We got some great bargains! And he was happy to have a little control back in the area of picking his clothing after months of wearing outdoorsy clothes that were chosen for him. We packed the unwanted clothes in a spare bag to take back home.
There were two phone calls to friends that were approved beforehand and they went well. He arrived at the school, strong and ready to begin. Off he went with the admissions director  in a golf cart, shortly after we checked in to the office. We filled out the remainder of the paperwork and had a session with his new therapist. We liked her a lot.
The best comment of the day was, "I wish you would have sent me to wilderness when I was a bit younger, so I could have more time with you now." He was getting it. We were relieved. We knew it might not all be a picnic down the road, but the transition went as well as could be expected. We said, "So long for now, we'll see you soon!"  A new day has begun, for all of us!
Happily yours,
WARRIOR MOM